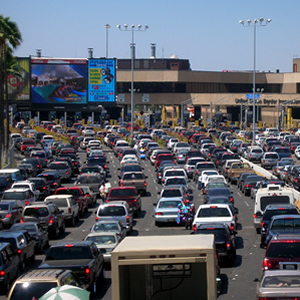 By Adina Moloman
Sources: Frontera, The Baja Times, San Diego Reader
According to different statistics sources, forty million people cross the border each year between Tijuana and San Diego, and by that San Diego- Tijuana Border Crossing is becoming one of the busiest in the world.
The cities of San Diego and Tijuana share many common economic, cultural, environmental, social and security projects. One of this common project is San Ysidro Gateway/Puerto Mexico project which is pretending to transform the border crossing with better customs services and improved access.
San Ysidro Gateway/Puerto Mexico project is a  remodeling and expansion project and  is considering to be done in three phases: phase one which involves the demolition of the existing port of entry building and expansion of traffic lanes from 24 to 62 and has its dead line in 2012; second phase, which is to start in 2013, according to its original plan  involves pedestrian crossing facilities;  the third phase which officially was to be completed by 2016 includes the construction of dedicated roadways diverting traffic from I-5 to the El Chaparral station.
So far the border-station construction project is in progress, it appears that in spite of considerate efforts and reunions between US-Mexico officials, there is a lack of bi national coordination and U.S. funds allocated to this project.
Mexican officials announced that they will complete their side of the new border-crossing known as El Chaparral as well as new bridges that will be needed for the transborder traffic by the end of this year, but the US officials are not mentioning the date line of the project of their side of the border.
Due to US budgetary restrictions the only solution found is routing traffic from I-5 using existing surface streets in San Ysidro. Mexican officials considers that this might create huge traffic backups for daily commuters.