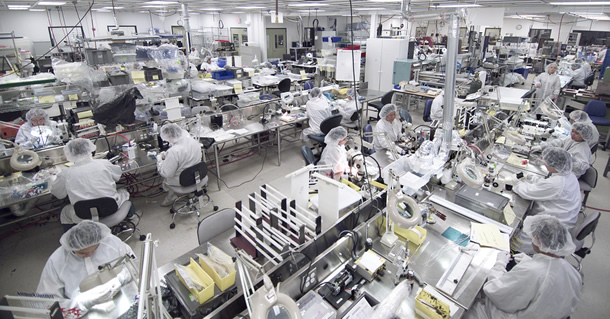 What are Maquiladoras?

At Made In Mexico, Inc. we would be delighted to walk you through the A to Zs of Maquiladoras and the Mexico manufacturing industry and explain how it can net big gains for your organization's bottom line. And by that we mean savings up to 75% or more off your labor costs!

The word Maquiladoras comes from colonial Mexico, where millers charged a "maquila" for processing other people's grain. Today the same term is used to describe companies that process (assemble and/or transform in some way) components imported into Mexico which are, in turn, exported – usually to the United States. Terms that are synonymous with Maquiladoras include: offshore operations, production sharing, twin plants and in-bond.

With many foreign companies turning to the Maquiladoras for labor-intensive manufacturing processes such as assembly, packaging, sorting and repair work, the 35-year-old Mexico Maquiladora industry is continually evolving. More and more, Mexican Maquiladoras are providing their workers with extensive training that prepares them to handle a wide range of high-skill manufacturing positions with quality, efficiency and an exceptionally high level of productivity. Though the Maquiladora industry continues to change and grow, the cost-saving benefits of manufacturing in Mexico's Maquiladoras remain constant:
The entry-level wage for low-level jobs in Mexico is approximately 25% of the hourly wage paid to workers in the U.S., which nets you enormous cost savings.
Mexico's standard work-week of 48 hours yields unbeatable speed of production without the financial drain of overtime pay.
Fast, easy startup with little capital investment turns projects that would be cost-prohibitive in the U.S. into lucrative possibilities.
Tijuana's close proximity to the U.S. border eases time constraints and transportation costs.
Withthe wholly owned, Cost-Plus Shelter Maquiladora option available through Made In Mexico, Inc., you can have as much or as little involvement with the administrative and labor-related responsibilities of your Mexican operation as you desire.
Your Connection to Mexicos Low-Cost Labor Force
Maquiladora: (mäkelädo´rä ) n. Synonymous with Mexico manufacturing, Maquiladoras are Mexican assembly plants that manufacture finished goods for export. Maquiladoras are generally owned by non-Mexican corporations that take advantage of low-cost Mexican labor, advantageous tariff regulations, and close proximity to U.S markets. Maquiladoras are one of Mexico primary sources of foreign exchange.

For your convenience, we've compiled some information on the history of maquiladoras and answers to frequently asked questions about the rules and regulations that govern them.

We hope we have answered your question, "What are Maquiladoras" and have provided you with some resources to explore further. It's also important to note that we are services leader in the greater Tijuana Maquiladora Industry.

Made In Mexico, Inc. would welcome the opportunity to assist you with your maquiladora manufacturing needs. If you are interested in working with a company that is committed to ensuring your success, we look forward to hearing from you.