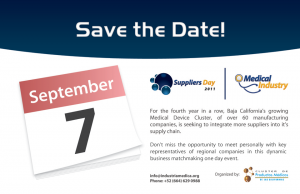 By Adina Moloman
This September will take place the 4th edition of the Medical Device Supplier Day 2011 in Tijuana, Baja California. The annual event of the Baja California Medical Device Cluster will take place on September 7th 2011 at the Gran Hotel Tijuana.
The purpose of the event is to allow new business opportunities among the participant companies, Foreign and Mexico Manufacturing companies and their potentials suppliers. During the event there will be a series of conferences, supplier exhibition and a Business Matchmaking (B2B).
The medical devices industry is considered as one of the main industrial clusters in Baja California, due to the high level of knowledge involved.
With over 40 years of export manufacturing experience Tijuana offers a Nearshore Outsourcing solution for transnational corporation, mostly from US and Canada, but recently also from Germany, Singapore, Sweden, New Zealand, Iceland, and other locations from all over the world.
Currently, there are more than 40 operating plants manufacturing Medical Devices in Baja CA.
The largest number of plants in this sector are located in Tijuana and Mexicali, such as: Care Fusion, Covidien, DJO global, Flextronics, Greatbatch, Welch allyn, Zeiss, Sunrise Medical, Medtronic, Nipro, Gambro, Pall, Smith Medical, PDC, Fisher&Paykel Healthcare, Ossur, I Flow, etc.
Nearly all medical device manufacturing companies are certified under ISO 13485, ISO 9000 or other world-class quality or management standards.
Totally, there are over 65 companies in Baja California's medical devices cluster, devoted to the assembly and manufacturing of plastic parts, equipment for gynecological investigation and diagnosis,  electronic thermometers, hemodialysis components, infusion pumps, lenses, nebulizers, orthopedic braces, oximeters, pacemakers, stents, surgical kits and equipment, urinary catheters, wheelchairs, x-ray film marking system among many others.
Most of these companies are stand-alone subsidiaries, but there are also a growing number of contract manufacturers, as well as companies operating under a Mexico Shelter Program.
The result of this event is to make easier the task of Medical Device buyer companies that are seeking to integrate more suppliers into its supply chain. The main demand requirements are within the following sectors: plastic, metalmechanics, packaging, electronic components and specialized services. Companies that announced their participation for the B2B encounter are: Care Fusion, Greatbatch Medical, Medtronic, Teleflex, Covidien.