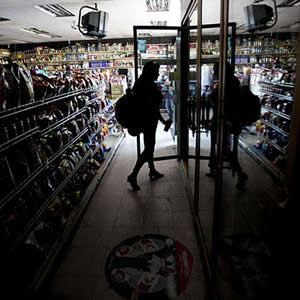 By Adina Moloman
Source: San Diego Red news, CNN, Arizona Government
A massive power outage left yesterday September 8th, more than three million people in  five Baja California cities (Tijuana, Ensenada, Tecate, Mexicali, Rosarito) and also San Luis Río Colorado  without electricity  and   around 2 millions in United States (southern Orange County , cities in Arizona State and  San Diego county  which were registered  1.4 million  consumers without electricity).
This Thursday night blackout caused millions of dollars to the United States and Mexican economy.
Most businesses in Baja California had to close. The Maquiladora Industry in the region was affected: not only the production operations which had to stop for several hours registering losses of millions of dollars but also the logistic operations where more than 500 multinationals corporations that are exporting their finished products into the United States every day through the Otay Mesa, Tijuana border crossing, where dealing with the situations where the system for the export procedure wasn't working.
In Tijuana, authorities reported no major problems across the city; in Mexicali, their residents had to deal with temperatures that topped 100 degrees Fahrenheit.
The effects of the outage in San Diego: schools took the day off , the blackout brought business in the region to a halt, trains and trolleys stopped in their tracks, traffic jam, mass confusion ,the power failure caused sewage to spill from San Diego's wastewater treatment system into the Torrey Pines State Beach area as well as Sweetwater River,  San Diego International Airport and a number of train stations where forced to to close ( all outbound flights were canceled, and incoming flights were rerouted to nearby regional airports).
The Arizona Power Service described the cause of the blackout as an "employee-generated event," saying in a statement that an employee was replacing equipment at a substation near Yuma, that seems too led to such a massive failure in the line that imports power to California and Mexico.
A binational event, Border Energy Forum will take place in El Paso, Texas, on October 27-28, 2011 in partnership with Re-Energize the Americas.
Hope this incident will raise strategies and procedures to prevent from happening that can be part of the analysis of the Forum. The Border Energy Forum was in the past years a space to exchange information about the best ways to produce and consume energy at border regions, where the main goals are economic development and environmental protection.
The Forum has now met in 9 of the 10 U.S. and Mexican Border States, with representatives from the academia federal governments of both Mexico and the United States, as well as state and local officials.