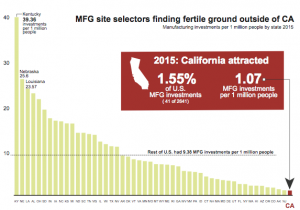 A recent study has been released answering the question, why are companies exiting California? This troubling trend has been growing for several years, and there are several contributing factors. Once the epitome of commerce and business growth, California is losing companies at an alarming rate. And many of those countries are setting up shop just south of the border.
The Number of Companies Exiting California
In 2015, a 7-year study was released by the Spectrum Location Solutions organization led by Joseph Vranich. In this report, conducted between 2008 and 2015, the number of companies exiting California, based on publicly known disinvestment events, is officially at about 1,700. However, according to Joseph Vranich, the real number of companies shunning or leaving the state is actually much higher:
Experts in site selection generally agree that at least five events fail to become public knowledge for every one that does. Thus it is reasonable to conclude that about 10,000 disinvestment events occurred during that period.
Those leaving the state are small companies, medium companies, and even major players like Toyota, Comcast, and others. Los Angeles is the worst-hit area, with some of the other heavily impacted areas including Orange County, San Diego, San Francisco, and San Bernardino.
Why Are Companies Exiting California?
The Spectrum Locations Solution report doesn't just detail the problem. It also identifies key motivating factors driving this exodus from the Golden State. According to the report, the following are the top five considerations for companies exiting California for fairer shores like Mexico and other locations:
Taxes:

California's tax regime is growing more complex and prohibitive, and the past few decades have seen a pattern of frequent tax increases.

Wages:

While California's school teachers are the highest paid in the US, their prison guards enjoy six figures, and state workers retirement pensions higher than their base salary, the state seems further determined to continue raising labor costs. A $15 minimum wage goes into effect in five years, and companies cannot afford to keep up.

Unions:

California has had a union problem since the 1980s, and their power continues to increase rapidly. Companies hiring in California now face extremely prohibitive benefits packages and inflexible labor regulations.

Red Tape:

Opening a small business in California typically takes upwards of two years. Red tape and the price of ongoing compliance and reporting is driving companies to exit the state.

Environmental Regulations:

New Cap and Trade rules go into effect next year. Many companies already find California's Environmental Quality Act (CEQA) to be too burdensome and costly. It is now commonplace for plaintiffs in spurious lawsuits to win – sometimes as much as half the time. Even losing plaintiffs do not have to pay the defendant's legal fees.