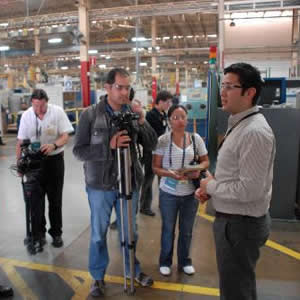 By Adina Moloman
SEDECO, www.ossur.com
September 23rd took place the official opening of the first Iceland manufacturing facility in Tijuana, Össur[1].
Officials from Mexico government (Baja California Governor, Tijuana Mayor) and officials from Össur (President and CEO) assisted at the ribbon cutting ceremony.
The manufacturing company received a monetary of nearly $ 1,116 million from the Government of Baja California, in order to exempt taxes, as part of the Tijuana Maquiladora Industry program.
Fist this new investment is part of the medical cluster consolidation in Baja California and secondly is an important project of manufacturing consolidation operations of this transnational company.
The new manufacturing facility in Tijuana is a state of the art manufacturing plant, built to produce bracing and medical supports.
Also during 2011 all bracing and supports manufacturing in the US will be moved to the Tijuana facility.
With this opening 100 new jobs were created in Baja California and by end of 2011 around 160 people are expected to be employed in Mexico.
According to an Össur report: in the second quarter one-time expenses relating to the Mexico facility amounted to USD 1.6 million. In the second half of the year one-time expenses relating to the Mexico facility are expected to be less than USD 0.5 million. Impact from savings, amounting to USD 4 million, is expected to materialize in 2012.
In the same report it is mentioned the excellent manufacturing quality at the Tijuana new facility of 9,500m2, state of the art with new equipment and lean manufacturing processes.
---
[1] Össur  is a global leader  medical company, with its headquarter in Iceland, specialized in non-invasive orthopedics for improving people's mobility. Main products: braces, supports, prosthetic limbs and compression therapy, year by year improved because of their huge investment in research and product development. Össur has major operations in the Americas, Europe and Asia, with additional distributors worldwide. Össur Americas' headquarters are based in Orange County, CA.