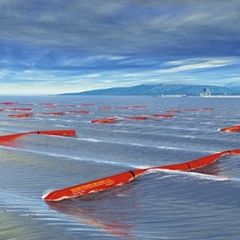 By Adina Moloman
Sources: www.renewableenergyworld.com, California Energy Commission, Ocean Energy Systems-Annual Report 2014, Mexico Now, World Energy Council
Wind and solar energy currently dominates the renewable energy sector in Baja California and probably worldwide.  Ocean energy is estimated to be one of the fastest growing forms of renewable energy in the next ten years and will contribute to the world's future sustainable energy supply. According to the World Energy Council, wave energy has the potential to contribute 10% of the entire need for electricity globally, with an investment cost of $800 billion.
Mexico is creating the environment for a complete sustainable energy transition in which clean technologies like those of ocean energy will be supported.
Wave energy is a relatively new technology and therefore there are only a few prototype devices installed worldwide.
A foreign company from Finland AW-Energy presented a wave power plant project, which consists in the design, construction and commercialization of its WaveRoller technology, which converts wave power to electricity. In fact, they currently are negotiating with both the Federal and Baja California's State Government for the implantation of its wave power technology at sites in the state. Their technology consists of a vertical buoyant flap hinged along its bottom edge to a structure on the sea bottom. The flap moves back and forth in the waves, operating a piston pump on the seabed. This is a method to harness near-shore bottom waves.
This project would attract an investment of approximately US$60 million.
The wave energy project will be Mexico's first and it is expected to function as a pilot program. If it proves successful, a commercial power plant will be constructed.
Baja California has a particular interest in developing wind technologies where The Center for Scientific Research and Higher Education of Ensenada (CICESE) has developed nine buoys off the Pacific coast of North America capturing wave data.  The center is in the process of creating a more detailed map of wave data for the region to support proposed wave projects in the state. Baja California has the potential to create a national hub for the renewable energy sector with similar potential as the Manufacturing in Mexico Sector has strengthen all the participating partners in Tijuana and the rest of the state of Baja California.