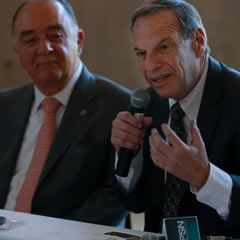 By Adina Moloman
Source: San Diego Reader, UT San Diego
On January 21, San Diego mayor Bob Filner had his first official meeting in Tijuana with Mayor Carlos Bustamante and border entrepreneurs, representatives of the Tijuana Maquiladora Industry.
This is not Filner's first appearance in Tijuana, last year he visited the organizers of Tijuana Innovadora to lend his support for that international conference.
Since then he constantly talks abut regional projects that benefit both sides of the border, and frequently visits Mexico.
This event took place at the Via Corporativo building in Tijuana and the Tijuana Economic Development Corporation (DEITAC) hosted the meeting.
During this meeting it was officially announced that The San Diego's border affairs office would operate out of DEITAC's offices at Via Corportiva, Tijuana starting next month.
One of the San Diego Mayor proposals in order for Tijuana and San Diego to become a truly bi-national region is to share the same area code. Technically an easy task but practically it involves a lot of political issues. The San Diego mayor is willing to press the issue in Washington, DC.
Filner is also setting up a direct communication system with Bustamante office: a direct line phone at his desk that will immediately put him in touch with Tijuana's Mayor.
The members of the Maquiladora sector insisted on a particular measure, the rebuilding of rail links on both sides of the border, in order to accelerate the growth of the automotive industry in this mega region.
According to Bob Filner the issue of the border crossing represents the biggest obstacle to boost development and trade in the region. He already met with Homeland Security, Border Patrol, CBP and ICE to make them understand the economic benefits of accelerating the border crossing.