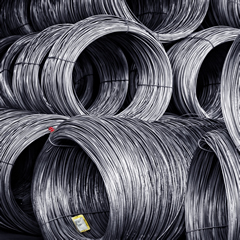 By Adina Moloman
Sources: American Machinist, Kobelco
A joint venture has been established between three Japanese corporations Shinsho Corporation and Kobe Steel, Metal One Corporation; Osaka Seiko Ltd; Mexico's Grupo Simec, S.A. de C.V.; and O&K American Corporation (US corporation) for the creation of a steel processing facility in Mexico to produce cold heading (CH) steel wire.
The Manufacturing in Mexico facility will process steel wire rod into cold-heating quality (CHQ) steel, to supply automakers and their suppliers. The name of the plant is Kobelco CH Wire Mexicana, S.A. de C.V. (or KCHM), with a total investment of approximately US$41 million (4.3 billion yen).
The local plant will respond with the same high-quality material available in Japan that can be used to manufacture high-quality parts in Mexico such as automotive fasteners and other cold-forged parts. So far the material has been imported from USA or Japan. Full-scale operations will begin in 2015.
Cold heading quality (CHQ) Steel is the raw material that is used for the production of fasteners (bolts, screws, nuts, rivets, nails, etc.) due to a process that provides good surface finish and dimensional accuracies to the fasteners.
Automobile production in Mexico continues to steadily increase with companies such as Nissan, Mazda, Toyota and Honda increasing investment in the country and more auto parts manufacturers looking to enter Mexico.
Since all these Japanese OEMs and their suppliers especially auto parts manufacturers are installing or expanding operations in Mexico there is a growing need for a local source of this material, so the Kobelco CH Wire Mexicana, S.A. de C.V. (or KCHM) will attend locally the increasing demand for CH steel wire.
The shareholder participation: Shinsho is anticipated to hold 40 percent of KCHM; Metal One, 25 percent; Kobe Steel, 10 percent; Osaka Seiko, 10 percent; Simec, 10 percent, and O&k American, 5 percent.