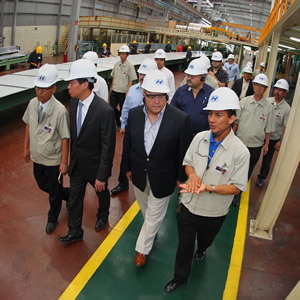 By Adina Moloman
Sources: www.europa.eu ; www.brookings.edu
In the past years the Latin America countries have played a more active role in international affairs, for instance on global economic issues. This year the EU community for the first time is giving full credit to Latin America community especially to Mexico, Brazil and Colombia for their understanding and important role on foreign direct investment and their high level of expertise in science and technology.
Even when in theory the strategic partnership between EU Community and Latin America and Caribbean states has always been a partnership of equals, in practice most of the business arrangements had involved only buying primary commodities from western hemisphere.
At the EU-Community of Latin American and Caribbean States (CELAC) Summit which took place at 
Santiago de Chile, 26-27 January 2013
, the European leaders had recognized the potential of the Latin America countries for trade and investment and the strategic importance of the western hemisphere for the economic recovery of the European countries.
At the first CELAC-EU Summit had attended heads of state, heads of government and other representatives from 60 countries, where for the first time leaders of the European Union (EU) such as German Chancellor Angela Merkel, Spanish President Mariano Rajoy, French Prime Minister Jean-Marc Ayrault, Portugese Prime Minister Pedro Passos Coelho, senior ministers from Ireland and the U.K., flew to western hemispheres (and not the other way around) with the intention to look for business partners.
The dialogue between both sides had focused on macro-economic and financial issues, environment and energy, science and research. They talked about joint ventures on specific investment projects in the next two years over design activities on electrical grids and machinery; development activities for communications equipment and software, etc.
The Mexican President participated in the first CELAC-EU Summit and the first CELAC Summit.
European business leaders have talked to Mexican President regarding the Mexico Manufacturing potential with the involvement and training of Mexican scientists and engineers.
The summit was a space for creating a strategic alliance between Latin America and Europe where both the United States and Canada (traditional Mexican business partners), were observers at this meeting because neither is a member of CELAC.