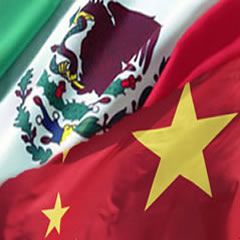 By Adina Moloman
Sources: Reuters, www.news.xinhuanet.com
Chinese President Xi Jinping recently visited Mexico where he met with Mexican President Peña Nieto.
The two leaders exchanged views on domestic and foreign policies and, most importantly, they agreed to upgrade the bilateral relationship into a comprehensive strategic partnership.
The main aspects of this strategic partnership are:
Mutual understanding and support on political issues.
Second, increase mutual investment in key areas such as energy, mining, infrastructure and high technology.
In the last couple of years China-Mexico economic relations have been unbalanced: the value of China's exports to Mexico were ten times those of Mexico to China this last year, $57 billion to $5.7 billion. Mexico exported to China mostly raw materials and imported finished goods like electronic products. In order to balance this trade deficit with Mexico, China is seeking more access to strategic raw materials such as Mexican oil, concrete, steel. This visit, not be a merely coincidence, considering with the fact that the Mexican government will soon pass an energy reform bill focusing on opening up the state oil company to private and foreign investment.
The two leaders agreed to promote trade balance, where China will work on raising of imports from Mexico, while the host country is considering establishing favorable conditions for Chinese investors interested into the Mexico Manufacturing sector and other strategic sectors.
Another aspect to consider is that the Mexico Maquiladora Industry, foreign companies manufacturing in Mexico, has been a direct competitor of the Chinese manufacturing sectors in supplying the US market demand for goods, where Mexico has regained some US market share.
The two leaders also agreed that the two countries would improve cultural exchanges by promoting tourism, academic and sports activities. Also considering was on building a Chinese cultural center in Mexico City and a Mexican cultural center in Beijing as well. The 4th point that the two presidents reached was over the bilateral cooperation on international aspects such as: energy security, food safety and climate change.
This visit is considered a step forward for Mexico-China relationship although to soon to consider a free-trade agreement between the two countries.
The Chinese president also traveled to Trinidad and Tobago, Costa Rica and United States.