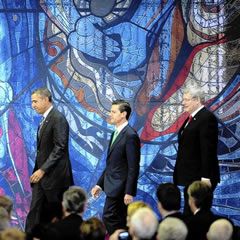 By Adina Moloman
The 20th anniversary of NAFTA's implementation has given a good pretext for exploring the nature of North American economic integration. The integration was taking place differently in diverse sectors, areas, and geographical regions. We can see a very integrated supply chain when it comes to trade and manufacturing, where the three countries are manufacturing together. The sector manufacturing in Mexico is highly integrated but in other areas there is still necessary the deepening of interdependence and this is the case for the energy, security, health and safety areas, etc.
Most of these goods manufactured together are distributed into the North American market and are moved by truck and by rail. This is giving the freight sector a significant environmental impact, where the transportation sector has to work on environmental improvements in the region.
Presidents Barack Obama and Enrique Peña Nieto and Canadian Premier Stephen Harper discussed many of these topics during the North American Leaders Summit in Toluca, Mexico.
The event took place after Mexico passed a series of major structural reforms, including an opening of the energy sector, so energy was a key topic at the summit.
Previously, U.S. Secretary of State John Kerry hosted the North American Ministerial with Mexican Foreign Secretary Jose Antonio Meade and Canadian Foreign Minister John Baird, where all three ministers emphasized the importance of the 20-year-old North American Free Trade Agreement (NAFTA) among other achievements in building a more integrated North American economic system.
The summit agenda included the need to develop a joint energy policy approach for the three countries, related energy improvements as well as the base for clean, renewable and green technologies.
Another topic was the plans for a coming NAFTA-EU free trade zone and the formation of a transatlantic economic union.