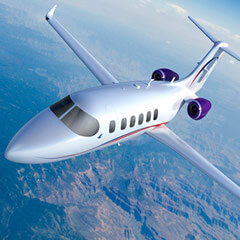 By Adina Moloman
Sources: SEDECO, aerospace-technology.com, spectrum.aero
Spectrum Aeronautical located in Carlsbad, California, a leader in design and manufacture of private and commercial aircraft is planning on building a new facility at the Silicon Border Science Park in Mexicali, Baja California and manufacture in Mexico their S- 40 Freedom light business jet.
The Governor of Baja California via a press release announced the news. During the Mexican Aerospace Fair at the Baja California pavilion of the event was presented the S- 40 project and the investment plan.
The great deal for Baja California aerospace sector is that S- 40 Freedom light business jet will be the first aircraft totally manufactured in Mexico, which will bring great economic impact into the region and will attract or create more Mexico Manufacturing aerospace suppliers.
The total investment regarding the establishment of the Spectrum Aeronautical de Mexico plant is around $300M US over a three-year period. Spectrum S-40 project is being financed from private Capital, development bank financing and government incentives.
The Baja California plant will complete with the necessary certification requirements from DGAC, FAA and other European certification entities.
S- 40 Freedom is a twin-engine mid-sized business jet, whose prototype was under development as of March 2012. The Californian aerospace company is well known for working with advanced composite technologies and for the collaboration with technology leaders like GE Honda Aero Engines, Honeywell, Williams International, etc.
The Californian company is using a combination of carbon fiber and epoxy in order to reduce the empty weight of the S-40 jet by 40%, compared to conventional aircraft built of aluminum.  The Mexican plant future employees will be well trained to use the fiber technology for the airframes in order to improve robustness, avoid corrosion and optimize drag in-flight.
This jet has also an aerodynamic design and will accomplish more fuel efficiency compared to conventional business jets.