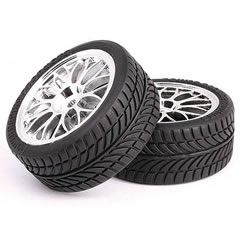 By Adina Moloman
Source: Rubber News
The tire market in Mexico is divided into the OEM market for automotive sector and the replacement market. Due to the high proportion of trucks and buses in the vehicle market in Mexico, the high replacement coefficient of trucks, and the increasing demand for new cars, drives a big demand for tires.
The growth of the automotive industry manufacturing in Mexico brings a positive outlook for the tire market. Mexico has become the world's eighth-largest producer of cars and light trucks according to the Mexican Automobile Industry Association.
Last year Mexico set a record for local auto production, almost 3 million vehicles, most of them for to the U.S. and Canadian market, but also serving a growing exports market to South American countries. The growing of the Mexican automotive sectors drove a positive consequence in attracting FDI from leading tire companies.
Transnational tire companies with production plants in Mexico are Continental Tire the Americas L.L.C., Bridgestone Americas, Cooper Tire & Rubber Co. and JK Tornel, with Michelin Group, Goodyear, Pirelli Tire, Yokohama Rubber Co. Ltd. and Hankook Tire Co. Ltd. in the process of getting into the market.
Pirelli, Bridgestone, Continental, Cooper/Occidente, JK Tornel have tire manufacturing capacities in Mexico. A special segment among the tire market, which has been witnessing an important growth, is the green tire market. The key vendors dominating this market space are also operating in Mexico and are Bridgestone Corp., Michelin SCA, Continental AG, and The Goodyear Tire and Rubber Co.
For instance the Pirelli plant in Mexico is producing premium tires, where more than 6.5 million Pirelli tires are sold in the U.S. and Canada market.
According to the report "Mexico Tyre Market Forecast and Opportunities 2018" by TechSci Research, the value of the Mexican tire market is expected to hit $8 billion by 2018. The same report is mentioning that the Mexican tire market revenues grew nearly 19 percent annually from 2009-2012.
The growing demand for automobiles in the domestic market is anticipated to contribute significantly to the demand for tires in the next couple of years.