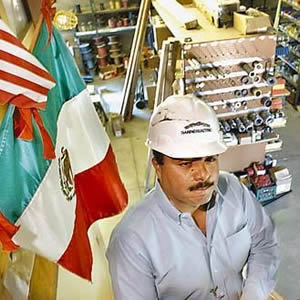 By Adina Moloman
Source: The Canadian Press
The Mexico Manufacturing sector is composed from hundreds of OEM's and their suppliers with a variety of consolidated productive sectors, which are constantly being on the lookout for new business.
New business keeps coming to Mexico's border with the United States from Tijuana BC to the Gulf of Mexico. Canadian power sports vehicle manufacturer BRP Inc., will announce plans to invest $55 million at the northern border, to expand production of its Can-Am all-terrain vehicle.
The new production facility, with production planned for the second half of 2015 is expected to employ some 900 people by 2015. The project of a 500,000-square-foot site is expected to be completed by the end of 2017.
BRP, that manufactures Ski-Doos and off-road vehicles opened its first manufacturing facility in Mexico, in Ciudad Juárez, in 2001. This first facility, which employs 1,250, is manufacturing in Mexico the Can-Am and side-by-side vehicles. A second manufacturing plant started more complex operations involving new composite technology for fiberglass, was installed in Querétaro, in 2012, and employs around 700.
BRP is the former recreational products division of Bombardier Inc.
For instance, Bombardier's decision to locate in Queretaro in 2006 gave a huge impulse of Mexico's aerospace industry, especially in this city. Since then was registered a constant influx of other big companies, whether OEMs or major suppliers. In Queretaro alone, Aernnova, Eurocopter, Meggitt, CFM, Messier-Bugatti-Dowty, Precision Castparts, and AE Petsche have all decided to open manufacturing facilities to stay close to Bombardier.
This was just an example of how Mexico has recorded production growth between 15% and 20% annually in the last ten years, according to the Ministry of Economy.