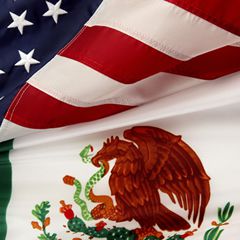 By Adina Moloman
Sources: NACIC 2014, US Embassy, UNITED STATES DEPARTMENT OF COMMERCE
The year 2014 marked the 20th anniversary of the North American Free Trade Agreement, (NAFTA) among Canada, Mexico, and the United States, one of the most important initiative to reach economic integration and regional cooperation.
The fourth edition of the North American Competitiveness and Innovation Conference – NACIC 2014, took place in Toronto, Canada last quarter. U.S. Secretary of Commerce Penny Pritzker together with Canada's Minister of International Trade Ed Fast and Mexico's Secretary of Economy Ildefonso Guajardo where addressing the theme "Vision to Action", as this huge initiative of the three countries in its goal to reach its true potential of integrating completely their markets requires a vision beyond short term national interest.
The event was organized by the American Chamber of Commerce in Canada (Am Cham Canada) and the Canadian International Council (CIC) in collaboration with the U.S. Department of Commerce and Department of Foreign Affairs, Trade, and Development, Canada and brought together senior government officials, energy specialists, legislators, CEOs, experts on manufacturing, technology and innovation, policy experts, etc. All the experts had the chance during four panel sessions to address different topics such as: The North American Energy Advantage; The Tri-National Legislations; CEO Perspectives on Emerging Opportunities; and The Future of North America. A total of six workshops covered key topics including: Investment; Technology; Border Facilitation; the importance of the Manufacturing in Mexico Sector and also the US and Canada manufacturing sectors; Innovation Networks; and Infrastructure.
The North America's heads of government agreed this year on several new areas for cooperation, including: broadening support for entrepreneurs, especially women; analyzing and leveraging the future of economic data to enhance commercial and economic competitiveness; and creating a process to engage on promoting cyber security practices throughout the commercial sector that can apply across country boundaries.
All the topics are included in the "North American Work Plan" for competitiveness and innovation that has eight key pillars: trilateral investment initiatives, tourism collaboration, border facilitation, regulatory cooperation, entrepreneurship and innovation, strengthening the North American production platform, stakeholder outreach, and promotion of skills for a 21st century workforce.
Today NAFTA's advantage is the market for more than 80% of Mexico's exports, 75% of Canada's exports and 35% of U.S. exports (Intracen 2013).