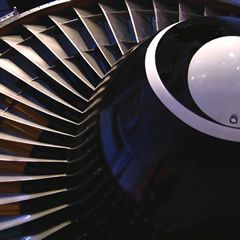 By Adina Moloman
Source: Aerospace Cluster of Baja California
Baja California delegation took part again at this year's edition of the Paris Air Show that was held from at Le Bourget Exhibition Center.
The International Paris Air Show is one of the oldest and largest air shows in the world, where were presented the newest technologies of the aerospace industry and related equipment. The first four days of the Show where reserved for trade visitors, followed by three days open to the general public. The Baja California Aerospace Cluster during the Show has concluded a successful business agreement by signing of a Memorandum of Understanding with the Centro para a Competitividade e Inovacion do Cone Leste Paulista (CECOMPI), The Brazilian Aerospace cluster. By meeting with Brazilian aerospace representatives and by signing this agreement with CECOMPI, Baja California is developing key partnerships for collaboration between the aerospace and space industries in Mexico and Brazil. First they have in mind to attract in the state Embraer, Brazil's largest aircraft manufacturer.
Other good news for the aerospace sector in the state of Baja California where revealed during a press released by the Baja California Governor and consisted on future aerospace investments in the state. Triumph Group, a manufacturer of aircraft components and accessories, who already has a plant manufacturing in Mexico, installed in Mexicali, announced that it would invest in a new manufacturing site in the same location. The second manufacturing plant in Mexicali will manufacture parts of complex shapes using composite materials that are becoming essential in the aircraft manufacturing process.
UTC Aerospace Systems designs, manufactures and services integrated systems and components for the aerospace and defense industries announced its second facility in the state of Baja California. The new plant will commence operations next year at a 160 thousand square foot facility.
GKN Aerospace a leader in the manufacture of highly complex composite and metallic aero structures and engine products is also considering a second manufacturing facility.