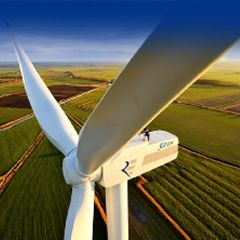 By Adina Moloman
Sources: www.thewindpower.net, www.wilsoncenter.org
There is a huge potential in renewable energy projects in the U.S.-Mexico border region.
In the last 5 years an important growth
is evident in the wind sector in Baja California attributed to various reasons: the high quality of the resource in the region, the interest of the private sector to invest in renewable energy sources, the development of a legal framework that has encouraged the private sector to become involved in electricity generation (traditionally an area reserved for the state in Mexico), improved technologies, falling costs, increased interest in renewable energies due to rising awareness of climate change as well as financing opportunities through international carbon credit schemes.
The building of the "La Rumorosa I" wind plant was undertaken in 2009, it involved
a total investment of U.S. $26,191,715 and powers 80% of the public lighting in the city of Mexicali.
The wind farm is located in the La Rumorosa area between Tijuana and Mexicali in the Sierra de Juárez region and is the first wind plant in the La Rumorosa it served as a reference for La Rumorosa II wind plant.
Mexico's Baja California state government owns the 10MW La Rumorosa I wind farm. A Mexico Corporation Turbopower Services constructed the plant, and the Spain's transnational corporation Gamesa, manufactured the plant's five turbines.
Baja California state's second phase of wind plant la Rumorosa II is scheduled to begin this 2013 and will have an installed capacity of 100MW project. The new plant will be constructed and operated by a private firm, which so far hasn't revealed its name.
The construction of the Rumurosa II wind farms is to generate electricity for sale to private clients or to the CFE. There is an emerging market for exporting wind power to the Californian's market in order to satisfy California's regulations for clean energy.