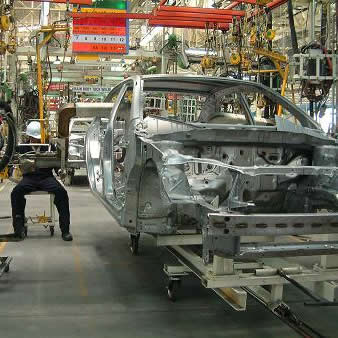 By Adina Moloman
Sources: WSJ, Bloomberg
European Luxury automakers are adding production in North America, and particularly they are considering Mexico as a strategic place to establish manufacturing operations.
BMW, Mercedes and Audi all three are attending the premium auto segment and lately they all are considering to meet growth in demand in North America and Latin America since there is a stagnating demand in the European market.
Audi decided to make an investment of $1.3 billion, 150,000 vehicles in a Mexico manufacturing plant in San Jose, Chiapas. Audi will begin making the Q5 SUV in 2016. Daimler expanded Mercedes production in US last year in order to produce in 2014 the next version of the mid-sized C-Class sedan.
BMW has just one North American manufacturing facility in South Carolina, US, which produces all of BMW's X3, X5 and X6 sport-utility vehicles and is considering in expanding its production in the region by building an assembly plant in Mexico in the next two years. There is also a discussion of building an engine plant in North America, which BMW could potentially decide on the project this year. The manufacturing in Mexico will serve the production of BMW popular 3-Series model. The production of BMW Series1 and Series 3 could commence by late 2016. Four different sites within Mexico are being considered for the location of the new plant. By the end of next year a decision over the site will be presented publically. BMW remains the best-positioned European auto manufacturer and is also the luxury auto manufacturer that has kept tight control of the technology especially when it comes to the engine division. The estimated investment for the assembly plant is of $1.5 billion, and is expected a low production in its first year and, if successful, BMW would increase its production and probably adding new lines of productions for additional models.
Mexico has become one of the world's auto-manufacturing centesr being the world's fourth largest auto exporter with almost 3 million vehicles manufactured only last year.