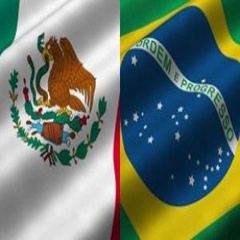 By Adina Moloman
Sources: The Economist, The World Economic Forum for Latin America
The tenth edition of the World Economic Forum for Latin America (WEF LATAM) took place May 2015 in the Riviera Maya, Quintana Roo. During the event Daniel Marteleto Godinho, Brazilian Secretary of Foreign Commerce announced plans to begin negotiations to get to a more friendly trading relationship and culminate in the future with a comprehensive free-trade agreement between Brazil and Mexico.
A visit of the president of Brazil, Dilma Rousseff to Mexico on 26 and 27 May, 2015 with the purpose of identify programs and policies regarding trade cooperation that benefit both emerging countries.
This news came after Mexico, for the second time, agreed to review the ACE 55 agreement and limit the exports of cars assembled by entities manufacturing in Mexico and being sent to Brazil for another four-year period.
Mexican exports to Brazil are less than 2% of total Mexican exports; almost the same is accounting the Mexico's imports from Brazil slightly lower than 2% of Mexico's total imports. This is explained by the fact that Brazil set limits on trade volumes.
On the other side Mexico is very tied into the North American market.
When it comes to their manufacturing sectors both countries depend on foreign direct investment especially in the automotive sector. They also have a high concentration of local component in their manufacturing process. The Mexico Maquiladora Sector is export oriented. Brazil prefers to concentrate on supplying their local market, which is growing bigger, instead of trying to fuel exports via trade agreements.
Nevertheless Mexico and Brazil can offer the best opportunities for trade in Latin America and can be very important partners if both countries are working on this aspect. Another issue is important to underline when it comes to consider the possibility of a free-trade agreement between Brazil and Mexico, and this is the US-Brazil trade relationship. This probably will delay the free trade agreement but nothing is standing in their way to conclude some small-scale reciprocal agreements regarding different trade aspects and considers reduction of tariffs on a major number of goods traded between the two countries.