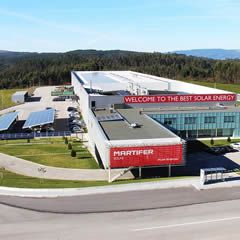 By Adina Moloman
Sources: The Daily Fusion, PV Tech
Last year Martifer Solar SA (Oliveira De Frades, Portugal) started the construction of Aura Solar I Plant in La Paz, Baja California Sur, Mexico.
At 30 MW, Aura Solar 1 intends to be the largest solar PV plant in Latin America. The Portuguese company is responsible for all of the engineering and construction, while a Chinese base company, Suntech Power Holdings Company Ltd. is supplying Martifer Solar SA with the solar photovoltaic (PV) module (132,000 of its Ve and Vd series modules). A Mexico Corporation, Gauss Energía its launching into operation this plant.
Being such a complex project, that costs more than US$100 million, classified as a sustainable project has the financial support from the Mexican Development Bank (NAFIN) and the World Bank's International Finance Corporation. The two financial institutions are funding 75% of the total cost of the project with debt financing.
Aura solar I plant is located on a 100-hectare, consists of 131,800 polycrystalline modules with single –axis trackers and is expected to produce an estimated 82 GWh of electricity per year, providing enough electricity to power an estimated 160,000 households and the industries manufacturing in Mexico
The project will be the first utility-scale solar project under a Power Purchase Agreement contract (20 years long) between a private company and Comisión Federal de Electricidad (CFE), Mexico's federal power company.
The distributor is Grupotec Energy de Mexico, who will not be permitted to sell o resell electricity from the new solar plant to any other buyer aside from CFE.
So far a few steps where completed: soil testing and terrain preparation, the acquisition of power generation equipment, the support structure and photovoltaic panels are about to be installed followed by the commercial operations.
This plant is an important step to develop solar parks in Mexico. Comparing to this venture Mexico has experienced only small projects. When complete will represent a big increase in total solar capacity for the country, allowing it to reach its goal of receiving 35% of its energy from renewable sources by 2026.