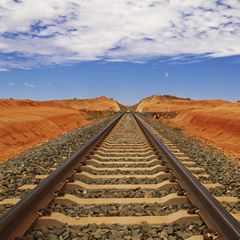 By Adina Moloman
Sources: UT San Diego, Border Planning, www.sdmts.com
The latest attempts by bi-national stakeholders are to reopen the rail lines between California & Baja California that connect Tijuana and Imperial County. This part of the Desert Line, which runs between Campo and Plaster City, is called Goat Canyon Trestle. The Goat Canyon trestle is one of the largest wooden trestles in the US. It was built almost 100 years ago, due to the many years, floods, fires, hurricanes, closure of many tunnels there are major sections of the track and bridges in the Desert Line which are destroy.
Given the current and projected demand to transport goods produced in many Tijuana Manufacturing facilities a dialogue amongst federal, state, regional, and local stakeholders in the United States and Mexico to reinvest in this rail project. The main argument is the raise in competitiveness of the region by improving the capacity and operations of the current infrastructure (6 different ports of entry) that is critical to decreasing traffic congestion and delays, facilitate international trade, and improve the quality of life for residents in the border region. On the other hand, heavy rail is more efficient and less energy intensive than single trucks (the main way of transportation of Mexican Mquiladoras products that are entering into US), and would help to reduce carbon emissions.
The project is in the conceptual planning phase. The anticipated completion dates and cost estimates were not completely provided.  Feasibility studies are now underway to consider technical, economic, financial, security, legal and environmental aspects of the project.
In Tijuana this February, officials of Baja California Railroad Inc. presented a proposition to invest $20 million in rebuilding (repairs and upgrades) of a section of 44.4-mile line between Tijuana and Tecate during the next five years. On the California side a plan is needed to rehabilitate and open the Desert Line. According to a contractor study, there are more than 57 bridges and tunnels that need to be fixed, with an estimated cost of repairs close to $100 million.