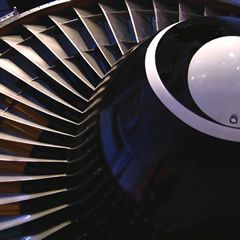 By Adina Moloman
Sources: The American Institute of Aeronautics and Astronautics (AIAA); Society of Manufacturing Engineers (SME), Speed News
The month of March will be a busy one for the California aerospace industry hosting at least 5 aerospace events.
The American Institute of Aeronautics and Astronautics (AIAA) will host at least two aerospace events in California: 2nd Annual California Aerospace Week will be held March 12–13, 2013, at the State Capitol Building, Governor's Council's Chamber, Sacramento, California. This is a multiple day event addressed to state lawmakers about California's economically important aerospace industry.
Civilian Applications of UAVs – A California Perspective, a Policy Symposium will be held March 26 – 28, 2013 at Westlake Village, California. At this event one can find out about Congress' action of directing the FAA to create six testing sites and a UAV certification plan by 2015 and how California can benefit from the growth of the UAV market.
SpeedNews is presenting its 3rd Annual Aerospace Raw Materials & Manufacturers Supply Chain Conference in Beverly Hills, California on March 4, 2013. At this conference the Aerospace's Mexico Manufacturers have an interest in participating due to its agenda which includes topics of interest such as; equipment OEMs, sub-tier manufacturers, supply chain executives, market analysts, investment bankers and raw material suppliers. At this event the key speakers will talk about military and commercial aircraft supply chain strategies, demand outlook for aerospace raw materials, market and supplier trends, and the impact of lean manufacturing
Two other events of interest to the aerospace's Mexican Maquiladoras: AeroDef Manufacturing and Composites Manufacturing 2013. The dual exposition and technical conference will be held March 19–21, 2013, at the Long Beach California Convention Center, hosted by the Society of Manufacturing Engineers (SME).
The AeroDef will have keynotes speakers from leading aerospace and defense manufacturing companies, including Boeing, Lockheed Martin, Northrop Grumman and Pratt & Whitney.
The three-day event includes panels and technical sessions on eight technologies oriented to the aerospace and defense manufacturing supply chain:  composites and advanced materials, digital direct manufacturing, electronics, finishing and coating, integrated assembly, precision machining and tooling, quality measurement and inspection, and supplier/contract manufacturing.