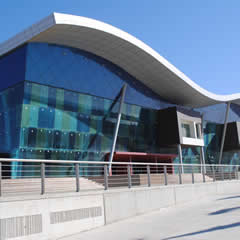 By Adina Moloman
Sources: bccenter.mx, UT San Diego
Baja California inaugurated a major convention center of 300,000-square-foot located at Km. 31.5 on the highway between Tijuana and Rosarito, which can accommodate events of up to 12,000 attendees.
The Baja Center will host all sorts of events, from concerts, sports events to corporate events supporting the industry of Manufacturing in Mexico events. It's already schedule to host the Mexico's National Olympics which runs through May 31, 2013 and the National Tourism and Meetings Congress this summer.
The project started in 2008 with a $45-million investment from the public and private sectors, to complete this first phase that includes the lobby, exhibition hall, gardens and open space.
The Baja California Center exhibition hall, now in its first phase, is about one fifth the size of the San Diego Convention Center's main hall. Baja California Governor Osuna Millan is ready to share the current infrastructure as a complement to the San Diego Convention Center, allowing for cross-border conventions.
Two future expansion phases are planned, which will finally build out the center to approximately one million square feet.
The economic and touristic expectations with the new Baja California Center are quite high; officials and promoters are saying that the center definitely will draw more visitors to the entire region, encouraging domestic and international visitors that will be here on business or to attend special events.
Another attraction will be Baja's wine and food industry: the development of the Mexican wine industry in the State of Baja California have started to gain international recognition and it's gastronomy is a unique mix of European, Asian, and Mexican traditions that are starting to be known as Baja Med food.