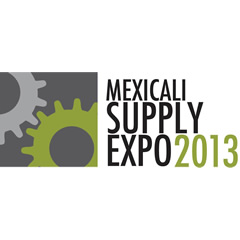 By Adina Moloman
Source: www.mexicalisupply.com
The Maquiladora Sector in Baja California will continue to grow in 2013. With this New Year it is expecting new investment in the region, in addition different transnational corporations with manufacturing facilities in Baja California have already announced expansion projects. To name a few: DJO Global, Össur, Welch Allyn, all medical companies, ready to invest in new plants in order to consolidate their current operations in Baja California and create new highly qualified jobs.
Hyundai and Plantronics are two other transnational corporation with expansion projects in 2013.
Different manufacturing sectors in the region, in order to consolidate their supply chain base, are continuing to organize industrial events. Un upcoming industrial event is the "Mexicali Supply Expo 2013", that will be held on February 21, 2013at the CPA BUSSINES CENTER INDUSTRIAL PARK in Mexicali.
The main industrial sectors with participation at this event are: Renewable Energy, Plastic, Electronics, Medical, metalworking, Automotive and Aerospace sector.
This event is a good opportunity for local/ national companies to meet the transnational corporations needs on supply of inputs and services.
The companies that have joined Mexicali Supply Expo 2013 as exhibitors are local innovating industrial companies such: Skit Industry, Industrial Safety, Ensenada Industrial Terminal, Test Solution de Mexico SA de CV, PDQ Precision, MRO Supply, Hummingbird Technologies, among many others.
The main sponsor of the event is Corrugados de BC part of the Orange County Container Group.
This is the third edition of this event and is expecting around 2,000 visitors.
Last year, at the second edition of Mexicali Supply Expo, Honeywell, Rockwell Collins, Skyworks, Kenworth, Pilkington were a few leading company that attended the event in searching for new suppliers.