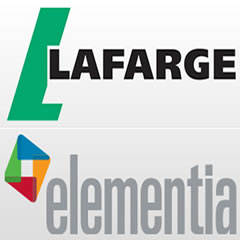 By Adina Moloman
Sources: Reuters, The Wall Street Journal
Mexico Corporation Elementia is a building materials conglomerate that just a few months ago entered into the cement making business with its cement division known as Cementos Fortaleza.
A newly cement Mexican company in a market well dominated by the giant Cemex, followed by the Holcim Apasco, a unit of Switzerland-based Holcim, which all together are dominating almost the entire Mexican cement market, came as a surprise in its intention of penetrating this market by negotiating a join venture with the French company Lafarge. Lafarge is one of the world's largest cement companies.
The French corporation operates in central Mexico since 2004 where its two Mexican plants have a combined capacity of close to one million tons.
This aggressive plan for Cementos Fortaleza is well analyzed by its two founders, the richest man in the world Carlos Slim and Antonio del Valle the owner of the chemicals and plastic tubing corporation Mexichem.
Cementos Fortaleza target markets are retail clients  (small scale buyers) in order to capture between 3 and 5 per cent of the national market within a year. It is expecting that the joint venture will close in the second half of this year, where Elementia will have 53 per cent of the joint venture and Lafarge 47 percent.
The Mexican corporation Elementia, since it launched the business in October 2012, is already producing 1 million tones per year in its plant in central Mexico.
After the joint venture the new created entity will have a capacity of some 2 million tons of cement per year. One of the reason for whom the world cement leader Lafarge is accepting this combination is because this will significantly strengthen Lafarge's position in Mexico and also is creating a good opportunity to start penetrating other Latin America's cement markets.