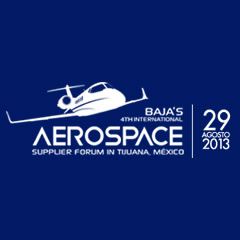 By Adina Moloman
Source: www.bajaaerospaceshow.com
The 4th International Baja Aerospace Supplier Forum will take place at Baja California Center August 29th 2013.
The Baja Aerospace Show is becoming a very popular event in this region, where Buyers and Suppliers from the aerospace and defense Industry are finding opportunities to do business within the Mexico Maquiladora Industry located in Baja California.
The 2013 edition is expected to be larger than the previous gatherings. The 2012 event was a success: over 250 B2B meetings where conducted, with the participation of 13 transnational aerospace and defense corporations – between buyers established in Baja California especially in Tecate, Tijuana and Mexicali, and over 70 suppliers from the United States, Canada, Europe, Asia and Latin America.
Prior to the event, Wednesday 28th 2013, there are different tours scheduled (a few of them still needing confirmation) to a variety of transnational corporations located in Baja California: Conesys- Molding and Assembly Center for circular connectors located in Tecate; Suntron-where the Tijuana facility offers large complex electromechanical structure integration; Eaton; Honeywell MRTC; UTC Technology (aircraft structure and Coating turbine), Skyworks- where the manufacturing facility in Mexicali, provides assembly, test and finishing services for a wide portfolio of semiconductor solutions; Hutchinson Aerospace- located in Ensenada is a Manufacturer of "o" ring, metal/ rubber seal for aerospace industry; Orcon Aerospace located in Ensenada where is manufacturing Aircraft Engines and Engine Parts; CPP- Consolidated Precision Products- Ensenada-based operation is used for preliminary grinding for all California business units (Port Hueneme, Cudahy, Industry, Pomona and Rancho), among others.
Generating revenues of approximately $ 4 billion of which more than 95% is exported, the Baja California aerospace industry doing their manufacturing in Mexico is made up of more than 60 firms employing over 16,000 people, many of whom are highly qualified operators and technicians and engineers.