By Adina Moloman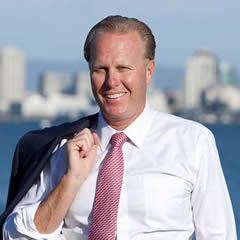 Sources: The New York Times, UT San Diego
The 2013-2014 San Diego mayoral special elections held earlier this year promises to yield positive result to the cross border industries.
The victory was obtained by the councilman, Kevin Faulconer, a Republican, who will serve out the balance of Filner's term, which ends in 2016. The republican Kevin Faulconer won with 55 percent of the vote, compared with 45 percent for his Democratic opponent, David Alvarez.
With this achievement San Diego is becoming the largest city in United States run by a Republican. Both candidates received official support from their respective parties, additionally Mr. Faulconer had received important support from the city's developers and business leaders and his ideas of improving the city's finance is based more on encouraging new businesses to open in San Diego.
A week after his inauguration as mayor he considered that is very important to maintain a close relation with Baja California and has visited Tijuana for a meeting with Mayor Jorge Astiazarán, the City Council, the Tijuana Economic Development Corporation and a group of business leaders of the manufacturing in Mexico industry.
Binational relationship, especially border and infrastructure projects are on Faulconer agenda, focusing for the moment on five key themes: the San Ysidro crossing expansion project, a binational railroad, an enhanced driver's license program to ease border crossing, funding for land ports of entry and a better cooperation with Mexico Customs, and comprehensive immigration reform. One of his adviser on binational relations is the former Mayor Jerry Sanders, a Republican who now leads the local Chamber of Commerce and remains one of the most popular politicians in the city of San Diego.
Faulconer also mentioned that he would keep the office in Baja California, Mexico implemented by his predecessor.